Old looms need love, too…
John here…
I was contacted by my sister a couple of months back, and she asked if I'd be interested in a loom. A non-weaving friend was trying to move one along to a nice home. Very decent for a non-weaver to recognize the value of such a contraption.
So, I am now the curator (can one actually own a loom any more than one can own a cat?) of a Model 131 Bernat loom. Eight harnesses, ten treadles, complete with mouse turds in the castle.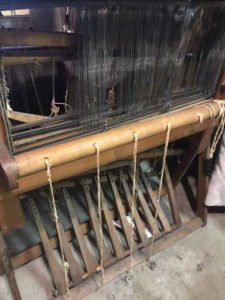 I don't quite know what I'm going to do with this loom. It does need a nice home, and I don't really have the space, unless I move my four-harness out.
My aim at this point is to clean it up, restore it, and move it on to a new home. Slowly. I may not let it move on at all. I've received permission from She Who Must Be Obeyed to keep it, with minor restrictions as to where in the house it can reside.
As an aside, does anybody have a copy of the manual for a Bernat Model 131 Floor Loom?